Pardot Consulting
---
Pardot B2B marketing automation by Salesforce helps marketers create more leads, generate more pipeline, and empower sales to close more deals.
---
Ice Nine Online can help you with:
---
Pardot Best-Practices Consulting
Pardot Email Development
Pardot Landing Page Development
Pardot Campaign Creation
Pardot Management and Salesforce Integration
Pardot Conversion Tracking & Reporting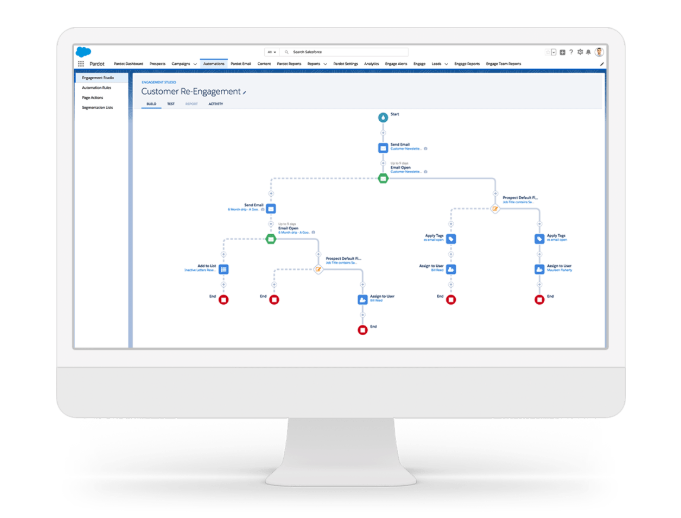 Pardot Consulting Services
Pardot Organization Consulting
We'll help you to organize your campaigns, forms, templates, files, and other Pardot assets into an easy-to-follow folder structure so that your team can find what they're looking for quickly and easily.
Pardot Best Practices Consulting
Pardot can have a steep learning curve. We'll help you to implement best-practices and ensure that Pardot is helping you to reach your business goals.
Pardot Email & Landing Page Development
Our highly experienced Pardot email template developers build custom HTML and Text email templates that drive users to open and read emails and engage with calls-to-action. We build mobile-responsive landing pages that drive your users to convert.
Pardot Campaign Creation
We help you to develop Pardot campaigns based on your goals and assist with creative, messaging, list upload, flows, completion actions, and conversion tracking. We also help you to launch and assess your campaigns.
Ongoing Pardot Management
We can help you to manage you Pardot account including continuous updating for best-practices, Salesforce and Pardot integration, and keeping things organized for you.
Pardot Reporting
We help you to track and assess your Pardot campaigns, show you where you can find Pardot reporting, and help to generate campaign reporting so that you can clearly understand if you've reached your campaign goals.