Naturally Nestled
---
Building an e-commerce home goods brand from scratch.
---
Ice Nine Online planned, built, and launched a highly-successful e-commerce home goods brand.
Overview
---
---
Ice Nine Online was hired by a bedding manufacturer to build an e-commerce home goods brand from scratch - the company name, logo, branding, website, e-commerce infrastructure, social media, advertising, SEO, and content strategy.
We launched July of 2019. We've gone from $0 in sales to thousands of dollars in sales per day. The brand is on pace to become a multi-million dollar company. Larger home goods companies are even starting to copy our digital marketing strategy.
Ice Nine Online built the Naturally Nestled website utilizing the WordPress platform and WooCommerce e-commerce plugin.
Features of the website include:
Custom product pages featuring reviews, product comparison info, and value propositions

Custom "shop" pages utilizing product comparisons and grid layouts to guide customers through to purchase

Custom "promotions" topbar to feature promo codes and CTAs
Custom product search function
Custom mobile and tablet-specific page layouts

"Intelligent" recommended product function for upsell and cross-sell opportunities 

A robust blog featuring company info, product info, news, promotions, and sleep-related content 

Custom widget that displays recent customer product purchases
Advanced caching for fast-loading pages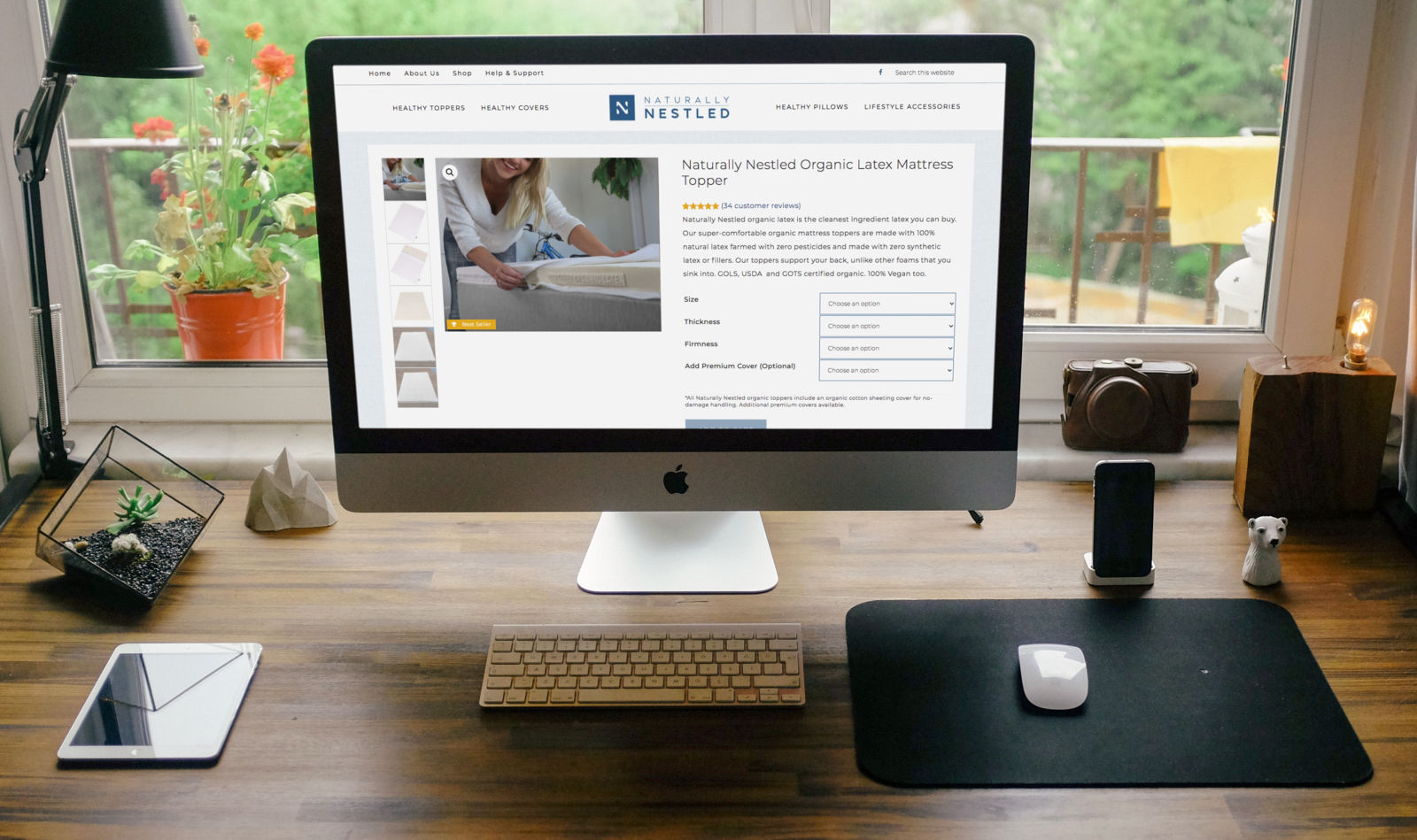 Digital marketing achievements:
On-site conversion rate 120% higher than industry benchmark
First-page SEO rankings in Google and Bing for highly competitive search terms
5x+ return-on-ad-spend from online advertising campaigns
E-mail open, click-through rates, and conversion rates significantly higher than industry standard
Significant engagement and referral traffic on social media
Exponential MOM and YOY revenue growth
---
---
Testimonial
---
"Ice Nine Online created a new eCommerce home goods product brand for us from concept to implementation. They created the company name, logo, branding, WordPress/WooCommerce website, and online collateral. The new website just launched last week and we're already seeing eCommerce transactions come in. We've gotten very positive feedback on the design of the site and user experience from industry peers and customers. We're thrilled with the work from the Ice Nine Online team - their expertise, execution, and customer service are top-notch."Chris B., VP Consumer Products, Naturally Nestled
---
Contact Us
Let's discuss your project during a zero-obligation consultation "Discovery Call."
Let's Talk