Google quietly rolled out its new "Possum" update on September 1st 2016, affecting a whopping 64% of local search engine results pages (SERPs). Evidence points to this being an incremental roll out with more changes on the horizon.
The Possum update currently only affects local search results. Meaning that if you're trying to rank on the 1st page of Google for a keyword and location doesn't matter, then currently Possum will not affect you.
However, if you're trying to get a local business to rank in the "local 3-pack" in Google, Possum is incredibly important for you.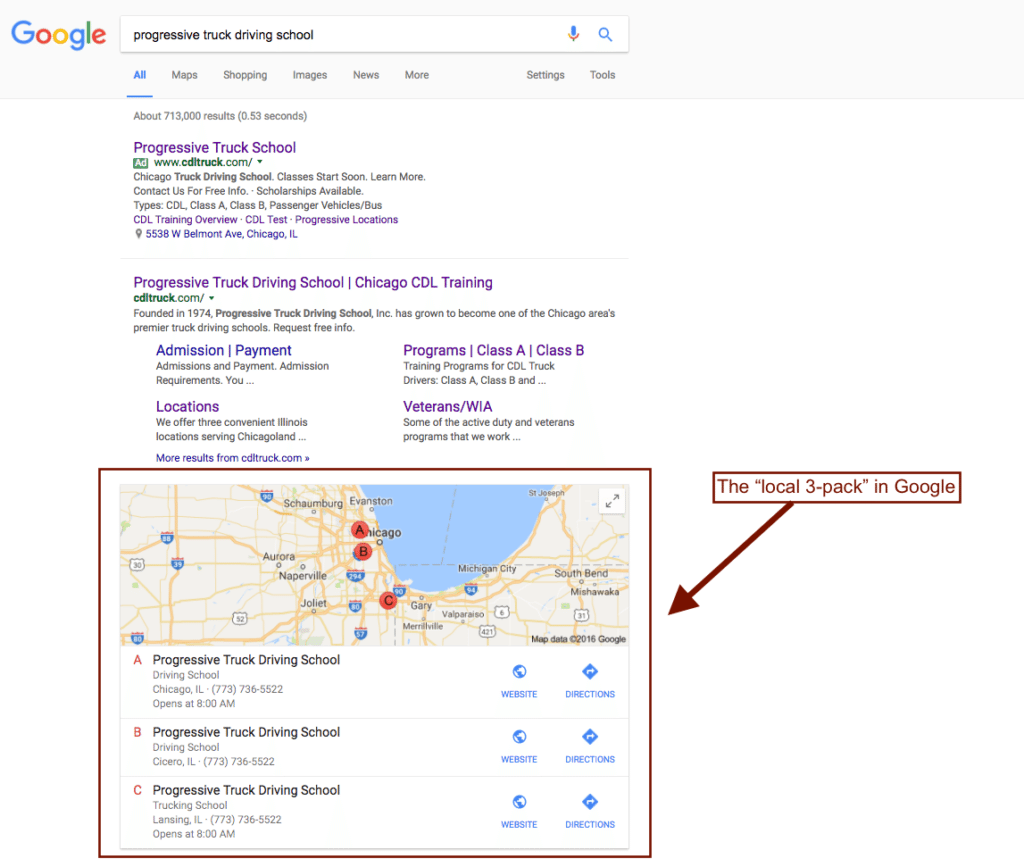 Here's what you need to know:
1. The physical location of the searcher is now much more important.
Now more than ever, WHERE someone is when they're performing a Google search is going to affect the local search results that they see.
For example, if you're searching for a Chicago-based dentist from Skokie, IL, you're now going to be much more likely to see Skokie dentists than dentists from Chicago (even the well-optimized bigger players in the city that used to appear prior to Possum).
Don't be surprised if you're looking for your own business in Google and don't see yourself in the local results – this could be due to your geographic location at the time of the search.
2. Businesses that fall outside of physical city limits have gotten a huge boost in rankings.
Many local businesses have experienced a huge spike in local rankings, especially for suburban businesses falling outside of city limits.
For instance, a Truck Driving School that is located in Cicero, IL, will now have a much better chance of showing up in the local 3-pack and Local Finder for keywords like "truck driving school chicago", especially if they're close to Chicago city limits.
This makes a lot of sense, especially for businesses located close to metropolitan areas who have customers in the city, but weren't previously showing up in local results for that city.
3. Businesses with more than one location will be affected based on address and business category.
Now and prior to Possum, if you search for "real estate agent Chicago", businesses with multiple listings with similar information like website domain and phone number are filtered out.
For example, a real estate company with independent agents (with separate listings) in a tight geographic area would find that a majority of their agents would be filtered out of the Local Finder, typically with only a handful being shown. This makes sense, as Google would prefer to show a variety of results for a search like "real estate agent Chicago" instead of one company with multiple listings.
With Possum, the same applies, however now we're seeing that a lot more businesses are being filtered out if the physical address of the business is the same as others in the same category (the same type of business).
Therefore, a real estate agent in Company A that works out of the same building as a rival real estate agent in Company B may see that one of them is being filtered out.
This has an important impact on which businesses get shown in "Local Finder":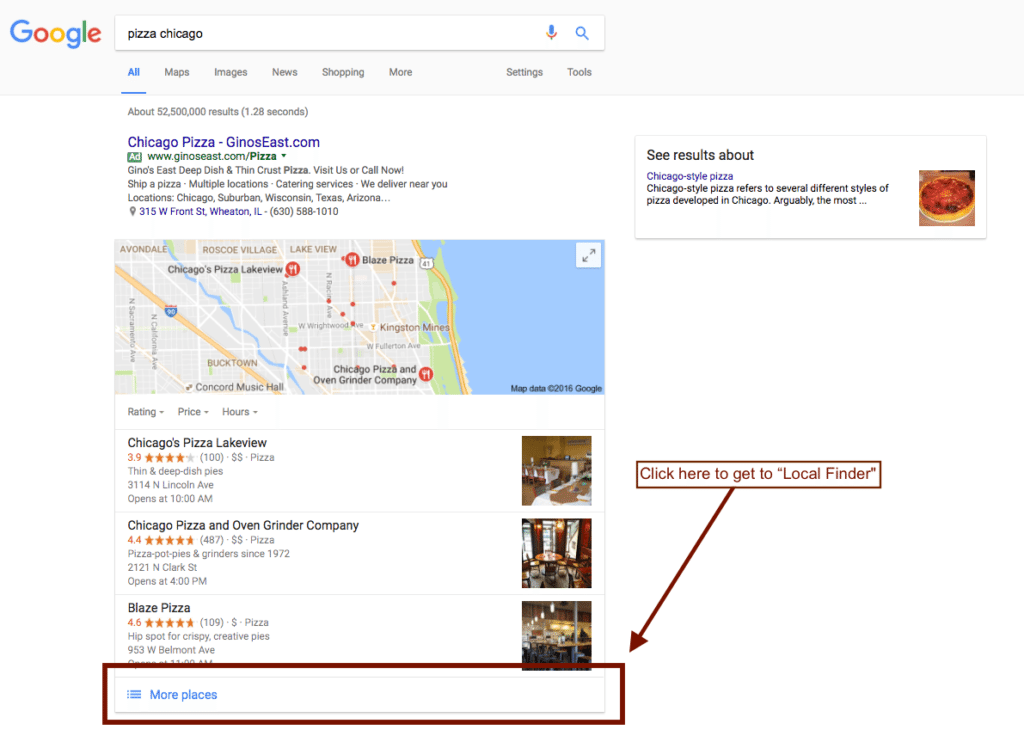 4. Semantic search is now more important than ever for local search.
"Semantic search" seeks to improve search accuracy by understanding the searcher's intent and the contextual meaning of terms as they appear in Google.
With Possum, search intent and "close" keywords are now much more important.
For instance, in the local 3-pack, searching for "Chicago Pizza Restaurants", "Pizza Restaurant Chicago", "Pizza Chicago IL" will now likely show different results in the local 3-pack.
Now, more than ever user intent should be an important part of your thought process in local SEO and keyword research.
5. Local and organic filtering has been separated.
Before Possum, some listings didn't appear in the local results because they linked to a site that was filtered in the organic results. Now that Possum is live, that's no longer the case.
Basically, prior to Possum businesses had a real problem if their website was being filtered from the organic search results – their listing also wouldn't show up in the local results.
With Possum, Google has now made it so that the local search filter operates independently of the organic search filter.
---
I'll be monitoring changes as Google continues to roll Possum out. Feel free to contact me if you have any questions about how Possum might affect your business.