V3 Companies
---
Building a Custom Company Intranet
---
Ice Nine Online built a company Intranet with numerous functions for V3, a top international engineering firm.
Overview
---
---
V3 Companies can be described in many ways: Most simply, they are a multidisciplinary firm offering civil engineering, contracting, environmental, planning and surveying services. 
Since their founding in 1983, V3 Companies has adhered to four fundamental core values. Unwavering integrity that includes honesty and transparency in their communications and business endeavors. Commitment to excellence by efficiently providing high-quality professional services. Focus on clients and the importance of doing all they can to achieve their objectives. Dedication to employees and the understanding that their people are their most valuable asset. V3's cultural foundation was built and nurtured with these core values as their guide.
V3 needed a custom company Intranet to be used as a portal for team members. The Intranet was meant to facilitate communication, provide access to key company info, alert team members to company news and milestones, and act a central repository for company documents and collaboration tools.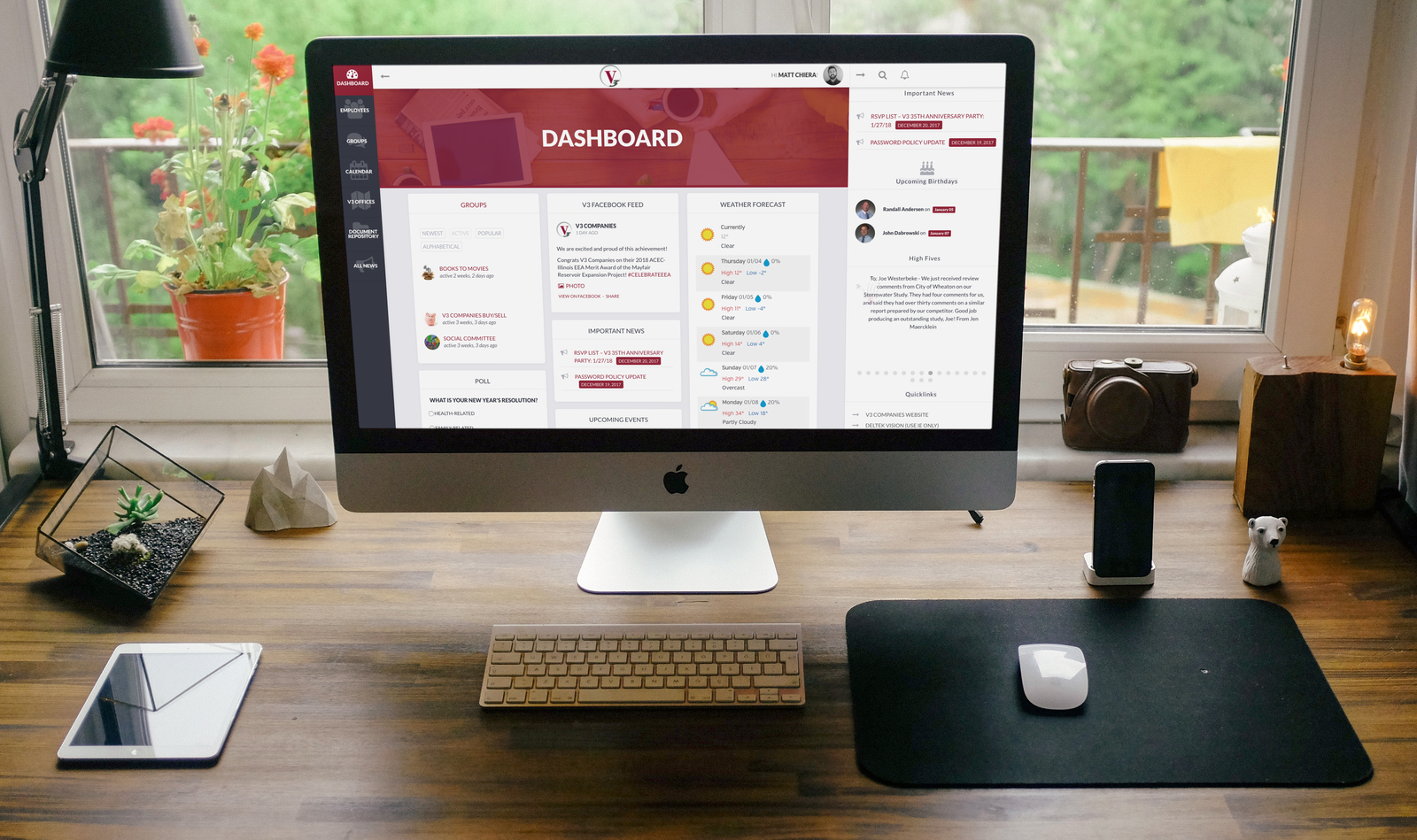 Ice Nine Online built a custom company Intranet utilizing the WordPress platform. Ice Nine Online also trained V3's team on how to make routine updates to the Intranet and how to facilitate usage and administration of the Intranet. Features of the Intranet include:
Groups i.e. Runners Group, Movie Lovers, etc.
Real time weather forecast
Slack-like internal messaging
A custom interactive blog
Company-wide alerts
Interactive office directory
Interactive employee directory
Interactive document repository
A custom feed from the company Facebook page
Multiple company calendars
Company-wide polls
Google-like internal search
Help desk and other forms
A plethora of access-levels, admin customizations, and advanced options
---
---
Testimonial
---
"Effective project management is one of Ice Nine Online's key strengths. They listened to our needs and took our priorities into consideration when designing the platform. Their expertise helped steer us in the right direction. We had a couple of initial meetings to discuss schedules and milestones, and Ice Nine Online's thoroughness ensured we hit ever deadline. They also provided a detailed timeline for our end which helped us stay on task and provide necessary documents in a timely fashion. We also made a few change requests outside of the initial scope, but Ice Nine was able to accommodate us without affecting our budget or schedule. They really went above and beyond."Shannon Coan, Senior Marketing Manager, V3 Companies
---
Contact Us
Let's discuss your project during a zero-obligation consultation "Discovery Call."
Let's Talk