Barrington's White House
---
WordPress, Web Design, Web Development, SEO
---
Ice Nine Online built an SEO-optimized website for an Illinois cultural institution.
Overview
---
---
Barrington's White House began with a vision. To turn their historical and cornerstone mansion on Main Street into the heart of their town. A cultural center for concerts and classes. A meeting place for corporations and non-profits. A warm and welcoming home for community members to host their life's most special celebrations.
Ice Nine Online partnered with top-tier creative agency Blu Sky Creative to build a WordPress website that puts the warm, welcoming nature of the venue on display. The impression of a luxury experience is evoked on-site. The website also highlights the various events that Barrington's White House hosts along with featuring upcoming events via an interactive on-site calendar.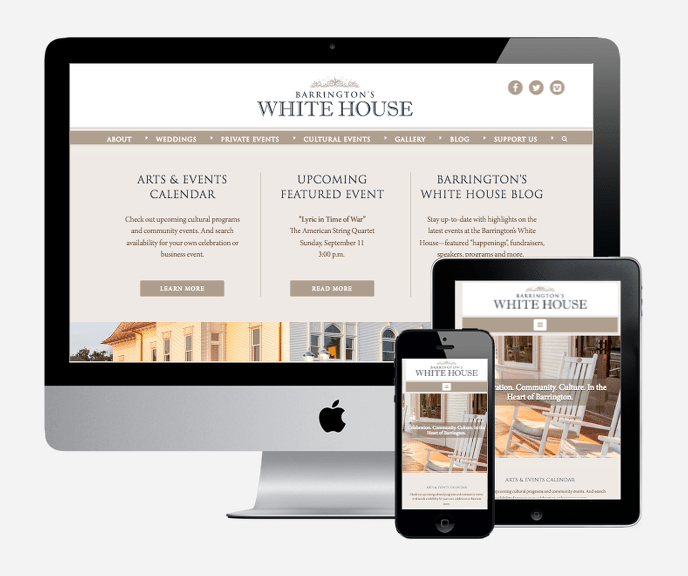 ---
Testimonial
---
"In my experience marketing companies are not always what they say they are and often times they concentrate solely on the bottom line. In my experience with Ice Nine Online that is not the case. They are interested in education and taking the time to create meaningful content, share insights as well as some of the "magic sauce". Marketing and design isn't just about what you know but also about being adaptive, agile. In my opinion Matt and Ice Nine have made that there practice. Rare find."Ryan F. Lead Project Manager for Barrington's White House Project
---
Contact Us
Let's discuss your project during a zero-obligation consultation "Discovery Call."
Let's Talk